Books
A Layman's Handbook on the Study of Natural Alternatives For A Healthy Life.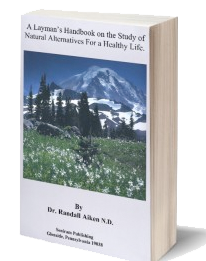 by: Dr. Randy Aiken
Preface
This book is a guide for all those who hold some curiosity about the ancient art of natural healing. However, the premise of the book does not purport to imply that mainstream medicine should be shunned, nor does it suggest that mainstream medicine does not work; rather, it is based on the findings of Doctor Samuel Hahneman, who is known as the founder of Homeopathic medicine, which he pioneered during his lifetime.
With rare exceptions, most people strive to become and remain healthy during their lifetimes. Nevertheless, for some, the goal is achieved, the greater majority of people are unable to do so. A healthy lifestyle is paramount to achieving excellent health; however, no one is invulnerable to sickness and yet, for those who are able to recognize the signs of illness in advance, there are steps that can be taken to forestall or lessen the effects of a disease before it strikes.
This book will provide a panorama of precautionary measures, each by means of a natural, non-pharmaceutical remedy. In addition, the book also outlines safe measures to be taken to combat an illness after it strikes. However, the actions are not to be considered as being prescribed; rather, they are remedies that have been prescribed by others. Each individual's body is different and the doses of the various herbs vary according to the individual. Nonetheless, examples will be clear and unambiguous as provided by professionals in the field.
It is not an obscure fact that healthcare costs in the United States has skyrocketed and there is no indication that the situation will be improving, which is why it is beneficial for everyone to compare alternatives for staying well and for the same reason to search for a natural cure; rather than depend only on pharmaceuticals that are composed of many chemicals and unnatural ingredients.
Undoubtedly, people are living longer lives as the life expectancy continues to climb. Consumption of pharmaceuticals has escalated alarmingly, leaving some devastating side effects in its wake.
Some say that "there is not a drug that cannot be replaced with something natural." Others say that natural herbal cures are based on legends and mythology. My thoughts on the subject, concurrent with many years of studying the subject of sickness and cure, healthy and unhealthy, as well as prevention, prompted me to publish this work to provide the reader with comparisons, which will enable the reader to come to an informed decision whether to choose either a natural remedy or a pill.
The book also provides signs of various hovering illnesses and it details steps on how to read your body signals that are warnings and how to combat the threat with preemptive measures. The path to a healthy life is not difficult to travel, once you are equipped with the proper information. Many of the obstacles that block a healthy lifestyle become surmountable once you learn how to deal with them. This book will surely provide you with the proper information to place you on the fast-track to a healthy life if you conclude that you accept the challenge.
To order your copy please send $11.95 plus $2.00 shipping & handling to
3003 Mt. Carmel Ave.
Glenside, Pa 19038
or Call: Cell Phone: 215-852-1725
Office: 610-825-1752
Product Price : $11.95

Ground Shipping: $2.00

Total Cost: $13.95